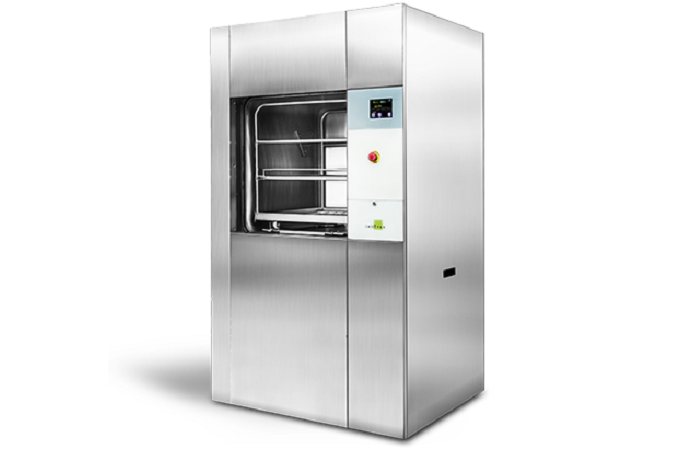 PRODUCT DISCREPTION
The Azteca sterilizer is a pre-vacuum/gravity sterilizer designed to cover a large field of applications for hospitals and laboratories, as well as pharmaceutical and bio-technological industries.
The sterilizer operates with satured steam and has an operating range of up to 2,5Bar/138°C. This Sterilizer uses steam under pressure as the sterilizing agent for wrapped or unwrapped goods and heat and moisture stable materials at temperatures from 121°C to 134°C.
A microprocessor based control system, state of the art "Freescale" technology, automatically controls all programs including the sterilization cycle. The system includes 5.7″ digital touch-screen grafic display, communication, self and remote diagnosis and PC connection for external documentation and printing. The displayed information is available for users in a variety of languages.
There are different sizes of the A Series, please open the Azteca A Series file under the IMAGES & VIDEOS tab for more information.
TECHNOLOGY
High quality components: the chamber is built of Stainless 316 L. All components have been purchased meeting the highest quality standards requirements from known leading companies around the world.

High reliability: Behind the company there is a team of high-skilled professionals, including multi-disciplinary engineers

Outstanding Performances: very fast cycle! Vacuum system, large capacity.

Modern design

High technologies: simple operation, color graphic touch display. The most advanced interface connectionc: Ethernet, USB, RS232 and RS485. Sterilization cycles' data collected online on a SD card

Easy to install

Easy to use: a fully automatic door locking device. A RO water purification system, a friendly graphic touch-screen user interface

Reliable service

Enviromental friendly: energy saving mode, water saving system, paperless recording

Highest standard