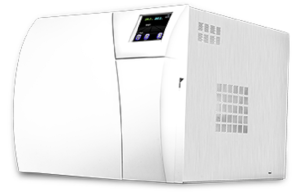 PRODUCT DISCREPTION
Bench-Top Sterilizers, Sting 11B & Sting 11B Premium, are fully automatic high-speed & post vacuum steam sterilizer, designed for wrapped materials, hollow instruments and porous loads in hospitals, private clinics and dental offices.
This sterilizer is equipped with a built-in steam generator and powerful vacuum pump.
Closing and opening the door is automatic. The chamber's volume is 23 liters, jacketed. External dimensions are especially suitable for small clinics. The design is modern, the unit is reliable, incorporates high-tech features and is based on more than 20 years of experience in the sterilization field.
TECHNOLOGY
Good to know about Bench-Top Sterilizers:
High quality components: the chamber is built of Stainless 316 L. All components have been purchased meeting the highest quality standards requirements from known leading companies around the world.

High reliability: Behind the company there is a team of high-skilled professionals, including multi-disciplinary engineers

Outstanding Performances: very fast cycle! Vacuum system, large capacity.

Modern design

High technologies: simple operation, color graphic touch display. The most advanced interface connectionc: Ethernet, USB, RS232 and RS485. Sterilization cycles' data collected online on a SD card

Easy to install

Easy to use: a fully automatic door locking device. A RO water purification system, a friendly graphic touch-screen user interface

Reliable service

Enviromental friendly: energy saving mode, water saving system, paperless recording

Highest standard