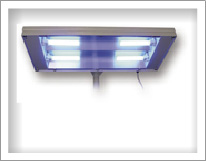 Product description
BABYLIFE® KLA-145L Phototherapy/blue light LED family
Designed for preventive and \ or follow-up care of hyper-billirubinaemia of neonates and premature infants.
Technology
Technical data:
Space requirement: 500x1000x1500 mm
Height of radiating head
– Versions M and MB: 980 or 1380 mm
– Versions MA and MU: between 1260–1660 mm
Lifetime of LED panel: min. 50000 working hours
Hour meter for LED lifetime
Light intensity control.
Range of radiating wavelength: 400/500 nm
Operation distance: 300/400 mm
Size of radiated area: 220×420/250×450 mm.
2 white LEDs with separate control (examination light).
Effective radiation intensity: >45 uW/sq cm at 300 mm (at 100%).
Electric power: 50 W
Mains voltage: 230 V ±10%, 50 Hz
Weight: 20 kg (standard version)
Basic design:
A floor stand device provided with castors with Brakes, working hour counter and programmable treatment timer, and total bulbs use. Ultra silent operation.
Mode of operation:
Time treatment counter in hours and minutes
Timer counter (countdown) in hours and minutes
Four versions available with blue LED panel.
– Version M: Two-position stand with fixed height and Horizontal radiating head
– Version MA: Stand with adjustable height and horizontal radiating head
– Version MB: Two-position stand with fixed height, radiating head tilting forward and backward by 45º
– Version MU: Stand with adj