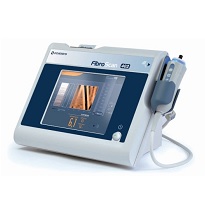 Product description
FibroScan 402 is essential for liver stiffness measurement, an intuitive and easy-to-use device based on a robust technology : Vibration-Controlled Transient Elastography (VCTE™).
Non invasive liver stiffness measurement,
Decision making assistance for treatment,
Enhanced patient follow-up.
As an adjunct to biopsy, FibroScan 402 aids in decision making and enhances both patient and pratice management.
Technology
VCTE™
VCTE™ is a proprietary elastography technology developed by Echosens. VCTE™ allows for measurement of tissue elasticity with quantitative, reproducible, real time results expressed in kPa (kiloPascal) and  is a standard recognized by hepatologists and validated by a large number of publications
One of the most important components of VCTE™ is the control of the vibration. To ensure proper assessment of tissue stiffness the vibration is controlled in shape, frequency and amplitude.
First of all, as the stiffness value depends on the frequency of the shear wave, the frequency of the vibration is controlled to obtain a consistent measurement that can be used for diagnostic purposes whatever the mechanical properties of the organ under investigation, whatever the etiology of the patient.
Second, the amplitude of the vibration is adapted to the morphology of the patients: small amplitude in children, large amplitude in obese patients to increase the penetration depth of the shear wave.
Third, the shape of the vibration is servo controlled to ensure a correct shear wave generation whatever the examination conditions (fat thickness, soft and stiff livers, abdominal wall distortion, etc).
Fourth, the electro-mechanical system used to induce the vibration is calibrated to ensure standardized and optimized vibration.