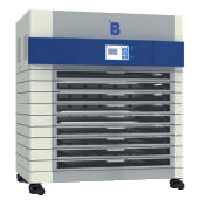 PRODUCT DESCRIPTION
PA range
New exclusive integrated incubator and platelet agitator for a better product safety according to Medical Device 93/42/EEC.
The product range Platelet Agitators offers modularity from 3 trays for a capacity of 30 bags (500 ml) to 14 trays for a capacity of 140 bags (500 ml), capacity is adjustable to your needs from 3 to 14 trays.
TECHNOLOGY
1 Exclusive individual motion system
Each tray has its individual motion system and access through its own door. This exclusive individual start and stop system allows work on a specific tray without affecting the motion of the others and ensures a better temperature stability of the unit. Each tray has its own LED lighting.
2 Best storage capacity
For the same footprint, our platelet agitators offer the best storage capacity per square meter. A wide range of storage capacities are available: 3 to 14 trays per unit.
3 Motion adaptable to your needs
The platelet motion is adaptable according to the needs of the user. Three motion types are available: linear, elliptic or circular.
4 Autonomous integrated incubator
Our unique two-in-one incubated platelet agitators offer movement, cooling or heating in ONE global module within an optimized footprint.
5 Built-in rechargeable battery backup
In case of power failure, the built-in rechargeable battery backup provides continuous movements up to 1 hour for 14 trays and air circulation.
6 Easy maintenance and cleaning
All parts of our platelet agitators are easily removable to make cleaning and maintenance simple (doors and trays are easily removable; each individual motion system is replaceable within 5 minutes).