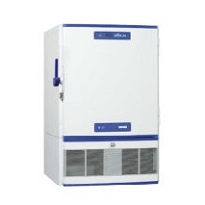 PRODUCT DESCRIPTION
U range
The product range Distribution Freezers offers volumes from 451 to 895 litres. U models reflect the highest and most uncompromising requirements with state-of-the-art technology and economy. The cooling system is optimally designed with respect to energy consumption as well as to the development of waste heat and noise. Standard factory setpoint is -41°C, temperature is adjustable from -20°C to -86°C.
Distribution Freezers for the low-temperature storage of temperature-sensitive preparations under optimum conditions according to Medical Device 93/42/EEC
TECHNOLOGY
1 Exclusive innovative handle bar (patent pending)
All functionalities at easy reach:
• Open/close – Heavy duty door lock mechanism
• Digital control with full functionalities – Standard multifunction digital sensitive 4.3'' panel integrated at eye level in the door handle with full commands and connections, or optional full 7'' touchscreen with preinstalled connection allowing exclusive °B Connected monitoring functionalities
2 High quality materials
High quality new coating, certified medical devices quality and antibacterial, on high quality steel for a better longevity and easy hygiene control.
3 Special features (U range)
• Integrated pressure release valve in the door permitting faster opening in one move, and offering easy access for cleaning or defrost
• Insulated inner doors for significantly lower loss of cold when opening
• Full compatibility of inner modules and rails, no need to buy new racks, you can keep racks previously used in different U models.