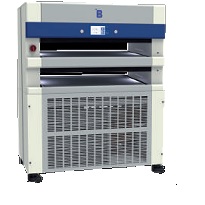 PRODUCT DESCRIPTION
CSF range
The product range Contact Shock Freezers are designed for the fast freezing of blood plasma, biological
and pharmaceutical preparations to a core temperature of -30°C.
CSF models are built in compliance with directives for the preparation of blood plasma.
High performance contact shock freezing technology for blood plasma, biological and pharmaceutical preparations according to Medical Device 93/42/EEC
TECHNOLOGY
1 Fastest contact shock freezers worldwide
Our contact shock freezers provide the shortest freezing cycle on core temperature of -30°C: nearly 100 units of 250 ml within less than 60 minutes.
2 State-of-the-art contact freezing technology TM
Our innovative and patent pending system of inclined trays delivers the most homogeneous freezing and offers the best in repeatability and productivity, with operator independent performance for 100% performance consistency.
3 Highest degree of ergonomics
Each tray has an effective and usable height, giving easier access for quicker loading and enabling easier manipulation of bags.
4 Optimized pull-down of the layers
The freezing down is quicker, the clinical payback on investment is maximized and the concentration of factors 8, 9 and albumin is increased.
5 Integrated multi-function electronics
Located at eye level, the electronics are easily accessible and can be connected with our fully integrated monitored solutions for a complete traceability of frozen bags.
6 Maintenance-friendly design
Our contact shock freezers offer an easy cleaning and disinfection facility.