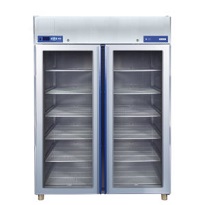 PRODUCT DESCRIPTION
P range
The product range Pharmacy Refrigerators offers volumes from 52 to 895 litres including one combined refrigerator / freezer model. P models are equipped with a PMMA organic glass door for quick check and pre-selection of the refrigerator's content. Being in conformity with the B Medical Systems Safety Standards these models ensure a reliable and safe operation.
Refrigerators for the storage of pharmaceutical preparations being subject to cold chain and temperature sensitivity according to DIN 58345
TECHNOLOGY
1 Integrated multi-function electronics
Integrated B Medical Systems multi-function electronics, at easy access level, in the door handle; compatible with a °B Connected monitored solution.
2 Lifetime warranty corrosion-free cabinet
• One piece material cabinet with a lifetime warranty for zero corrosion, highest quality polypropylene for a better insulation and no sharp edges to provide easier maintenance and cleaning
• Easier, safer handling as the lower weight of corrosion free material offers better stability with heavier components placed at the bottom
3 High storage capacity
High storage per square meter in terms of net volume, with a very versatile inner volume utility due to the multiple user friendly rails allowing modularity.
4 Exclusive innovative handle bar (patent pending)
All functionalities at easy reach:
• Open/close – Heavy duty door lock mechanism
• Digital control with full functionalities – Standard multifunction digital sensitive 4.3'' panel integrated at eye level in the door handle with full commands and connections, or optional full 7'' touchscreen with pre-installed connection allowing exclusive °B Connected monitoring functionalities
5 High quality materials
High quality new coating, certified antibacterial, on high quality steel for a better longevity and easy hygiene control.
6 Highest insulation value (organic glass door)
4-layer (Precision Line) and 5-layer (Premium Line) PMMA organic glass offering highest insulation, combined with reduced weight reducing efforts to close door and constraints on hinges, offering a better longevity.